Cheap and Reliable Hair Salon Chelmsford
We are a cheap and reliable hair salon Chelmsford!
Our Salon
Located by the beautiful river in Chelmsford city centre, we are proud to be able to offer our stylish and affordable services to anyone passing. Located on 1A Baddow Road, our salon has superb surroundings for the ultimate hairdressing experience.
We are constantly striving to improve our salon experiences and therefore all our branches have been updated to enhance the working environment as well as the environment for customers. At Salon Central we aim for your experience with us to be a pleasurable one, every time!
We Listen and We Care
Being a cheap and reliable hair salon Chelmsford means that we listen and take all feedback into account. This has allowed our company to grow even stronger and have salons in 6 different locations.
We provide amazing styles at unbelievable prices. Our excellent rates do not affect the quality of our work. We aim for every customer to leave our salons feeling satisfied and excited about their new look. Our team also work hard to ensure that your hair does not look good only on the day you visit us, but for weeks afterwards. Get a salon perfect look every day with Salon Central!
Our Team
At Salon Central in Chelmsford, we are a team of highly enthusiastic individuals who work hard to give you the results you are looking for. This means we use our experience and knowledge to keep learning and improving our services.
All our stylists are qualified and experienced. They are trained experts who are happy to serve you and transformy our hair and looks. Whether you are looking for a trim, or a full makeover, we are here to advise and make you love your hair!
Our Products and Styles
Being known as a cheap and reliable hair salon Chelmsford, means that we use the best products for our customers.
Have you heard about Matrix? Matrix is the number one professional brand in the USA, that will allow you to transform your hair colour. This advanced technology offers an array of professional hair colouring options for us to choose from. Whether you are looking for a colour boost or a complete transformation, our hair stylists will work hard to create a custom shade for you!
Matrix offers a full spectrum of colours to appeal to your tastes, this is perfect for the colour shy to the fashion-forward! Furthermore, if you are not happy with the outcome of the colour we create for you, we will work hard to find the perfect shade for you.
Find Us
You can find our Chelmsford salon on 1A Baddow Road, Chelmsford, CM2 OBX. We are proud to be open every day to serve every customer.
As part of our cheap and reliable hair salon Chelmsford reputation, we have created a booking system to suit everyone's needs. This includes a form on our website, reaching us through: 01245 690 360 or sending an email to: [email protected]. You can also use our new booking app on our website! This allows you to tell us when you would like your appointment as well as what specific service you are looking for.
At Salon Central we also welcome walk-in appointments for those who are feeling more spontaneous!
If you are still not convinced about our services, why not read some of the reviews from our happy customers:
"Yet again I walk in with my hair a mess and Salon Central sorts it." → Sarah M.
"I had a full head of highlights, a wash, cut and finish today. I left the happiest I have ever left a hair dressers before. Amazing service and would highly recommend to anybody!!! Will deffo be coming back." → Abbie G.
"I've been coming to this salon for quite some time now and I'd highly recommend it Salon Central does an amazing job with whatever I want doing." → Jonnie-Rose W.
Read more about Salon Central as a cheap and reliable hair salon Chelmsford on our website!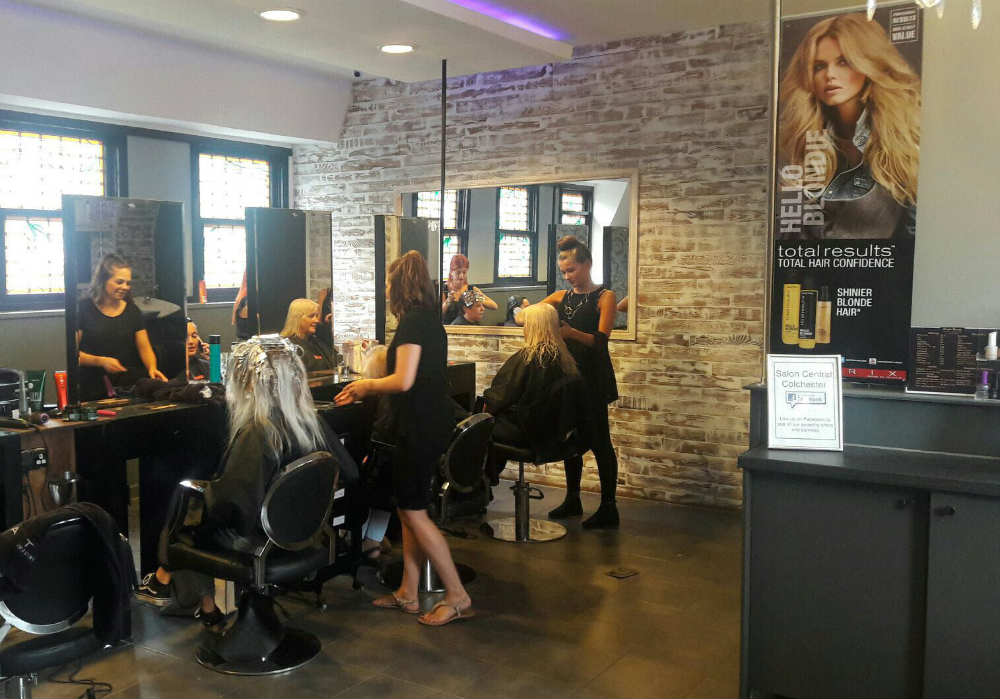 Chelmsford (01245 690360)
Colchester (01206 369 400)
Maldon (01621 927 080)
Braintree (01376 349 656)
Witham (01376 617 740)
Love Ur Hair (01206 369 400)
Salon Central
8b Eld Lane
Colchester
Essex
CO1 1LS
(01206) 369400